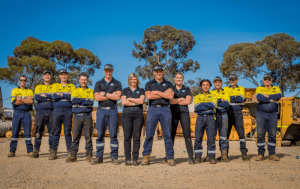 Worthy Parts is a globally recognised platform specialising in advertising parts and machinery in the mining and construction industry.
Backed by a team of qualified trades people, the Worthy Parts platform connects clients with hard to source parts from around the globe.
Source thousands of readily available new and used parts listed on the Worthy Parts site.
The revolutionary new website was developed by heavy duty mechanical workshop supervisor Michael Worthington.
The idea of the Worthy Parts website and business model grew after years spent watching large amounts of money go to waste within the mining industry.
Worthy Parts is set up as a supplier to many of the mining and contract companies across Australia, facilitating the transaction of parts sales for members who otherwise are not set up to sell to larger mining organisations.
Worthy Parts key area of business is acting as the solution to asset disposal, transacting within our centralised asset trading business model – allowing clients to easily sell and source parts and machinery.
With a mobile friendly approach, the Worthy Parts site is accessible across Australia by desktop and mobile devices. The Worthy Parts team act as an extension to their clients' sales teams, acting on behalf of the client to move on unwanted parts from their yards.
The aim of Worthy Parts is to deliver a reliable and trustworthy service, that sources and connects service providers from across Australia and internationally.
Worthy Parts has been designed to consider all business types and sizes with the attractive feature of 30 or 45-day trading accounts to approved members.
Worthy Parts Model offers clients a rounded solution when it comes to the sourcing and selling of parts and machinery.
The internal capabilities that the Worthy Parts team can offer are based on a centralised asset trading model. The Worthy Parts team are qualified in their respective departments with a high level of industry experience.
In combination with the Worthy Parts sister company, Industry Link Media – Worthy Parts Industry Link Auction & Expo was formed to provide service providers in the mining industry a platform to promote their services and auction parts and machinery in the Goldfields.
The WPIL Auction & Expo will be held for the second time in October 2019 and will incorporate a series of networking events that will connect the industry and the public.
To find out more information on Worthy Parts, or the WPIL Auction & Expo, email info@worthyparts.com