The Worthy Parts team touched down in Germany late last week after flying more than 14,000kms across the ocean in preparation for the Bauma Expo 2019.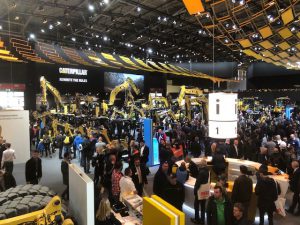 Located in Munich – the Bauma Expo is the world's largest construction and mining expo, demonstrating new technology and capabilities from industry leaders with more than 3,700 exhibitors and over 620,000 visitors spanning across 6 days. Over 240,000 visitors came from outside of Germany to attend the show.
Company director Michael, along with sales team members Patrick and Dylan represented the Worthy Parts brand to the European market, as the company continues to grow and connect service providers and industry personal internationally.
Despite the airlines losing Michael and Dylan's luggage on day one, the team continued into the 6 days of the expo with eagerness to meet with current global clients and further the growth of the Industry Link network for the benefit of all our service providers.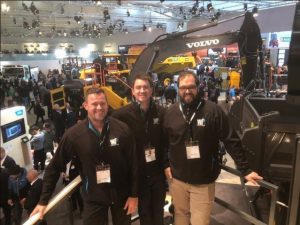 Throughout the trip, the trio spent time understanding the complex layout of the Bauma Expo, with 18 halls and an overall exhibition space of 614,000 m², the expo grounds feature internal and external displays, as well as a food lane, a selfie high rise, and a train that will take you across the grounds.
Some key features within the expo included the major OEM displays.
The CAT internal hall, was over 9,000 m2 which hosted 64 NEW machines, the largest machines including a D11T dozer and 777G Truck being loaded by 992K Loader. It was topped off by the brand new R1700K underground loader – the new updated design has made many changes to the previous R1700G model. CAT hosted events for their customers throughout the week, and it was rumoured that on one night alone, CAT signed a deal on selling 374 new machines.
Home-town favourite, German brand Liebherr utilised over 14,000 m2 of space to display their new range of cranes and earthmoving machinery including the impressive face shovel R 9200 E and Electric Drive Truck T 236. They also displayed their new custom built components such as engines, final drives, PTO's, pumps which will be set to compete with other major OEM brands like Cummins, CAT, MTU and Detroit.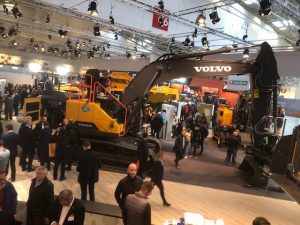 Volvo put on a breath taking performance similar to what you'd see at a circus, with stunts, tricks and Spanish style bull fighting on offer, they catered to the entertainment value of the show.
Komatsu displayed both indoors and outdoors in over 6,500 m2 of space, where they set up over 30 machines including the new HD605 truck, PC1250-11 Excavator and PC4000 face shovel to rival the Liebherr R 9200 E.
The team are content in reporting the growth of the WPIL network over the 6 day period, and have started counting down to the WPIL Auction & Exp in Kalgoorlie, Boulder in 2019.