Worthy Parts have partnered with Clontarf Foundation for 2018/2019.
With the Foundation's purpose  to improve the education, discipline, life skills, self-esteem employment prospects of young Aboriginal and Torres Strait Islander men, we had a group of 8 students on site to demonstrate what it is that Worthy Parts do.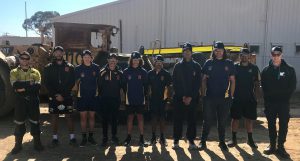 The group of students were given a tour of the yard,  as well as introduced to key roles within the Worthy Parts company ahead of some of the students taking up work experience with the team over the coming months.
Worthy Parts Operations manager Phil Worthington ran the group of students through the ins and outs of the parts department and what roles they'd likely be involved with as work experience students.
It was great to have the Clontarf Foundation on board this morning for the tour and the team look forward to the students being onsite for work experience.