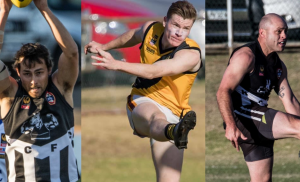 Some good natured rivalry has surfaced at Worthy Parts with the Goldfields Football Grand Final playing out this weekend.  A large contingent of the workforce is solidly behind Kangas and with Workshop Manager Rick Butterfield and T/A Chad McDonald pulling on the boots for Kangas it has been a long week for Tigers' star Tom Tedge who works beside Chad.  Behind Tom though is Phil Worthington and Scott Worthington.  Phil was a long term and very popular president of the Tigers and Scott, a star player for them before and after his stint at Subiaco Football club in the Perth WAFL competition.
With managing Director Michael Worthington a former coach of Kangas, there is more twists and turns to this than what will be seen at the game.  Also, Director Jaymi Worthington is the granddaughter of Kanga legend, Jack Neil which adds another level of rivalry around the workplace.
Needless to say bragging rights on Monday will be up there in intensity and the best part is it will all be in good humour.  Good luck to all the guys playing in tomorrows game! Go Kangas!
* This article was written by Gary Brown from Industry Link Media (staunch Kangas supporter)