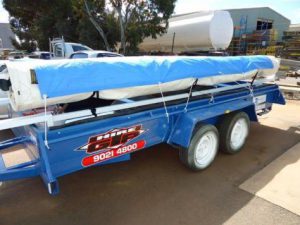 Cricket Season is upon us in the Goldfields, Worthy Parts are proud to come on board as a platinum sponsor for the 2017/18 year. We are dedicated to supporting local sport groups as we know how important it is to have positive community interaction in regional areas.
Even though there are no match reports due to the localised storms cancelling play on both weekends of the season, the EGCA (Eastern Goldfields Cricket Association) have had another unfortunate set back to the start of the season.
THEFT
Thieves made off with a trailer carrying two sets of pitch covers to the value of $15,000! Now based on the opening two rounds of the season being abandoned because of rain, it's no guess that those covers are badly needed. Never-mind the inconvenience of replacing the expensive equipment which won't arrive till December, Goldfields cricket will be at mercy to the weather!
The trailer was stolen after thieves damaged a fence to gain access to the Ray Finlayson Sporting Complex sometime between Sunday night and Monday of this week. The EGCA have set up a GoFund me page where you can donate to support their cause! In the mean time if you spot the missing trailer please contact police!
YOU CAN DONATE HERE → https://www.gofundme.com/replace-turf-covers-and-trailer