Checkout our latest listing for August 2018, a very tidy refurbished Atlas M6C Longhole Production Drill.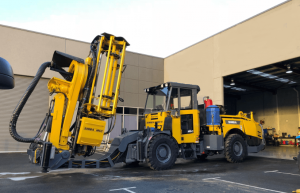 The Atlas M6C Simba Longhole machine can support a range of drill bits and rock-drills and is capable of drilling parallel holes upwards downwards up to 3m apart and to diameters ranging from 51mm – 115mm.
The Simba M6C can accommodate a variety of top-hammer and in-the-hole hammers to suit different applications. Rig Control System (RCS) is a precise and productive feature with the ability to set automated single or multi-hole drilling functions.
An enclosed cabin feature brings new level of safety and operator comfort, which in turn helps productivity.
If the Atlas M6C doesn't suit your requirements, there is many other underground drill options currently on the market. See below links for your perusal:
Failing those options, please contact our Worthy Parts Sales Team to see if we can assist your needs – Contact us 
FIND THE PARTS YOU NEED – SELL THE PARTS YOU DON'T