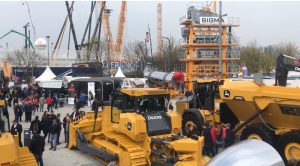 2022 Bauma Trade Fair 
The Worthy Team are excited to head to bauma 2022 Trade Fair in Munich this month. 
This year marks the 33rd edition of the world's leading trade fair for Construction Machinery, Building Material Machines, Construction Vehicles and Construction Equipment.  
It's been a tough few years for international travel, so the team is excited to meet face-to-face once again with the movers and shakers of the industry.  
Worthy Parts owner Michael Worthington is more than ready to get back onto the world stage: 
"We are excited to get back out into the international arena and see what Germany has in store." Michael said. 
The theme of the fair is zero-emissions and covers everything from the digitisation of the construction industry to autonomous machines and the future of mining. 
Some of the equipment the team is expected to see includes battery-powered reversible vibratory plates, zero-emission compaction with e-tandem rollers, and electrohydraulic lifting. 
As well as being good for the environment, electric motors are quiet — allowing for work in areas with noise restrictions — and are considered low-maintenance. 
With the fair taking place between 24th and the 30th of October in Germany, hopefully the people will be warmer than the weather and the team can make some lasting connections.