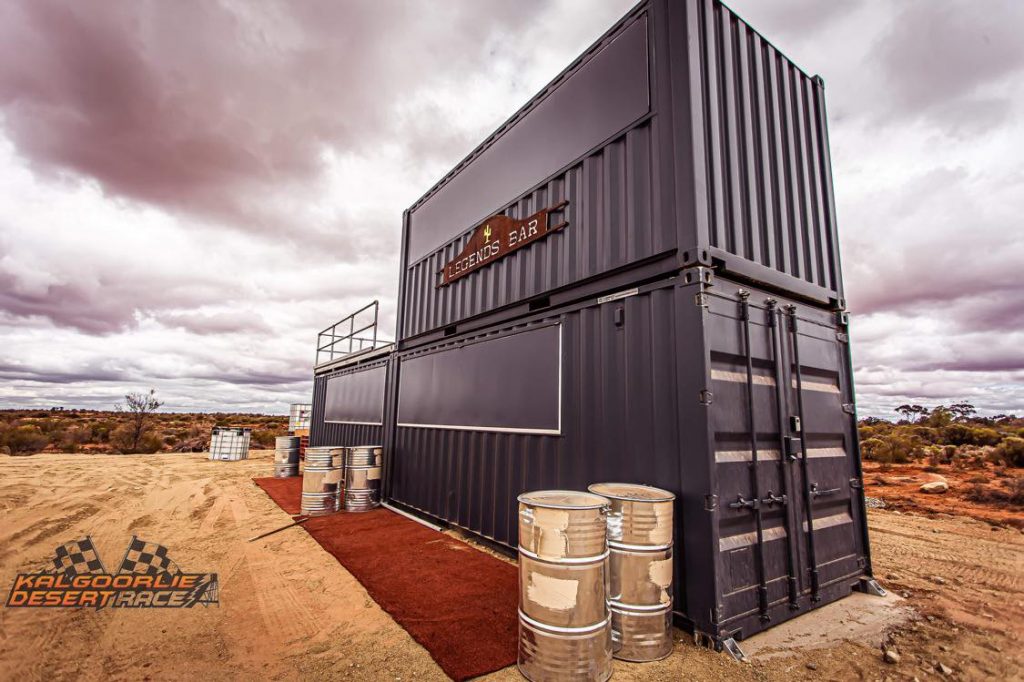 The recent Kalgoorlie Desert Race saw competitors, support people and spectators converge east of Kalgoorlie Boulder for a jam packed three days of driving and riding. With the Finke Desert Race cancelled in 2020 due to COVID-19, competitors were eager to get behind the wheel and battle it out. While all of the racing was going on, spectators needed a place to watch the action and enjoy a thirst quenching beverage. But when you are miles away from the nearest watering hole, what do you do? You bring a bar to the Desert Race. 
The design of the bar was the brainchild of Kalgoorlie Desert Race President Gus Lacey and Campbell`s Camps owner Jack Campbell. The lads literally designed the bar on a white board. According to Mr Campbell, the design was to help provide sponsors and special guests a comfortable location to watch the action "We concentrated on making sure the race VIP`s and Sponsors had a great vantage point to watch the racing as well as the Top 10 Shootout." he said. "One of the great features is that the bar is portable and could be moved easily if that is required" he added. 
President Lacey praised the professional and timely manner in the construction and completion of the project, "We have worked with Jack previously in our own business Raglan Drilling, in constructing container style accommodation and messes. The professional manner in which Jack and his team operate, gave us (KDR) the confidence to engage Campbell`s Camps for this project. The finished product was delivered on time and those who populated the bar really enjoyed themselves"  he said. 
The locally designed and manufactured bar is able to be expanded and is transportable.  Campbells Camps also assisted in creating a race office and communications room in airconditioned comfort right in the heart of red dirt country.