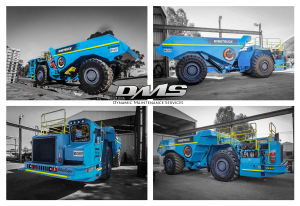 Underground Mining Contractor GBF have just finished refurbishing one of their Atlas MT6020 trucks for a new project they recently won in Western Australia. The work was carried out by one of our Worthy Parts Service Providers – Dynamic Maintenance Services.

The GBF management team have used this as another opportunity to help create awareness and support for mental health of their employees by painting the truck blue, with their slogan 'Help Us, Help You, Help Yourself'.
Traditionally the MT6020 truck is painted an iconic Atlas yellow however, depression and anxiety is often symbolised with the colour blue. It is estimated that depression and anxiety can affect as high as one in three people worldwide and it is an ongoing issue facing the mining industry. The 'Help Us, Help You, Help Yourself' program has been designed by GBF as a way to encourage their employees who may be going through a tough time, to reach out and ask for help. Well done to GBF for developing a compassionate culture.