This weekend seen Kalgoorlie host the DTA Ausdrill Rockdrill Championships at the Kalgoorlie Boulder Fair. This is the second year the event has been run by a dedicated committee in Kalgoorlie after a 16 year hiatus in the Goldfields! Drillers attended from all over Australia. It's an adrenaline fueled event where competitors compete for the fast times using Panter Airlegs provided by Down Under Mining. Requiring technique and strength the sport has seen a revived interest across Australia with younger competitors getting involved.
COMMUNITY SUPPORT
Great to see the support by local companies in sponsoring the events, hats off to Worthy Parts Service Providers Resources Trading and Manglesdorf Engineering as gold sponsors along with all the mining company's who jumped on board to ensure this Iconic event is brought to a new generation! Kalgoorlie is one of four national events, Bendigo hosting one in October, Kalgoorlie's neighboring town Norseman hosting their Rockdrill in Nov, with the circuit completed in Tasmania in December.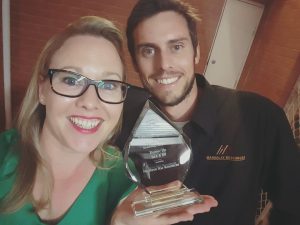 WORTHY WINNER
Worthy Parts are delighted to congratulate our own Marketing Manager Claire Weir on taking home the Runner Up for the Northern Star Jack and Jill on Saturday!!! Claire is also a sponsor and WA Rockdrill Club committee member, great to see her represent for Western Australia!
You can find out more info about the WA Rockdrill Club, winners and events at www.warockdrillclub.com.au