www.worthyparts.com | Local classified ads & directory for the mining and construction industry in Australia

WORTHY PARTS – COMING TO A TOWN NEAR YOU!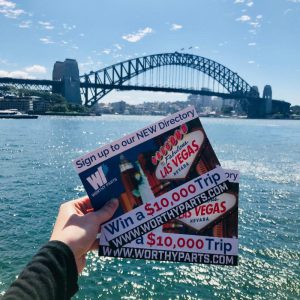 Since the recent launch of our NEW Services Directory and national marketing campaign, we are experiencing huge interest, highlighted by fresh website listings and a big spike in online traffic and enquiries. Our marketing campaign is taking us to all parts of Australia, with recent trips to Perth, Bunbury, Esperance, Sydney, Brisbane, Toowoomba, Mt Isa, Townsville, Orange, Dubbo and Parkes. 
With some more promotional trips planned in the coming weeks and only 11 weeks remaining to enter the 'Vegas $10,000 giveaway', Worthy Parts will be coming to a town near you! We have a great industry following, so make sure you reach out to our sales team and discuss how to list your Services, Parts or Machinery within the Worthy Parts platform.
YOUR DIRECT INDUSTRY LINK, CONNECTING YOU WITH OTHERS
Kind regards,
Michael & Team,
info@worthyparts.com
NEW TO THE WORTHY PARTS SERVICES DIRECTORY
Your Directory to search services in the Heavy Plant and Mining Industry across Australia – Join Signwriters, Compressor Services, Mechanical Contractors, Lineborers and many more…
If you have any questions about listing on the Worthy Parts service Directory
get in touch with our marketing guru Jes Mckenzie! 08 9021 7182

LATEST ADVERT LISTINGS
COMPLETE MACHINES
AVAILABLE FOR WRECKING
PARTS, COMPONENTS, TYRES AND ATTACHMENTS