www.worthyparts.com | Local classified ads & directory for the mining and construction industry in Australia

HAPPY NEW FINANCIAL YEAR!
We hope you had productive end to the 2017 financial year? As another year starts again I'm sure like us, you too have reviewed your spending and earnings over the past twelve months. There are always learning curves with finances, but the one thing which we can all agree on is cash flow is key to having some comfort for your operating needs.
For our industry, parts availability is key to saving on downtime but there's nothing worse than having money tied up in idle stock. You know with Worthy Parts we're here to save you time and money, creating an unexpected revenue you can sell your idle parts on our website, it's FREE to list! Create more cash flow by selling to our direct market!
Don't forget you can get us to source those needed parts too! We deal with parts dealers, mine sites and maintenance services throughout Australia so that part you desperately need may only be one phone call away for us! We offer 30day trading accounts so get in touch with our sales team to find the parts you need & sell the parts you don't!
Regards,
Michael & Team,
info@worthyparts.com
(08) 90217182
FIND THE PARTS YOU NEED – SELL THE PARTS YOU DON'T 
WORTHY NEWS
WORTHY RESULTS AT GFL CARNIVAL
Congrats to the Goldfields Football League team for making the Grand Final last Sunday at the Annual Landmark Carnival hosted by the West Australian Country Football League.
SNAP US YOUR PARTS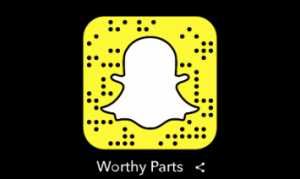 We're on Snapchat now! Find us by our user name worthyparts or by the snap code above and see behind the scenes at HQ.
RECENTLY LISTED ADS