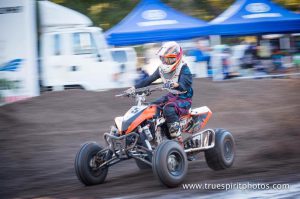 What a great sportsman to work with! Worthy Parts are proud to have supported Jemma's journey at MWAW competitions in 2017! We look forward to her 2018 season, there is so much more this girl brings to the table and its fantastic to see her empowering and paving a way forward for women in MotoX.
Jemma Merrylees achieves MWAW's Race Recognition Award
This year's Motorcycling Western Australia Women's Race Recognition Award goes to a very deserving woman who dedicates any spare time to her sport-Jemma Merrylees. Jemma has been a quiet achiever – in 2014 she podiumed in the Quad Clubman Series in the State Rounds and was graded to Intermediate and since then has gone forward in leaps and bounds.
Jemma is now a fully qualified spray painter and still does not get much time to train. When racing, it's either a late night drive to Perth for State Rounds or drive to Perth to jump onto a plane and then back again on Sunday night. Jemma is fully committed 110% to her Quad racing.
In 2015, she was a strong competitor in the WA Quad Championship,taking it up to the male competitors. She dominated in the ATV Nationals taking out the No.1 Womens Title and finishing 5th in the male dominated Intermediate Class. She also took out the Northern Territory and South Australian Titles in 2015.
Again in 2016, Gemma once again proved herself – finishing 12th in the State Series. She has won both the NT & SA titles again in the Women's Class and finished near the top in the Pro Class (3rd in SA & 3rd in NT Titles). Also in 2016 Jemma won the Australian #1 Women Quad Championship and also 2nd in the Amateur Class at the Quad Nationals against male competitors.
In the 2017 WA State Series, Jemma placed 9th in the Quad Championship with one round to go and currently she is the only woman quad rider in the Series.  Jemma was nominated for this award by the WAMX Commitee for her huge amount of determination and motorcycling talent.
Jemma is very proud to receive the Motorcycling WA's Female Rider Award and said this week "Winning this award is something I could only ever dream of, for all young girls coming in and up through the sport, it is possible to set your mind to a goal and achieve anything. Nothing is ever impossible".
What an Inspiration-Congrats Jemma.
Original article found HERE