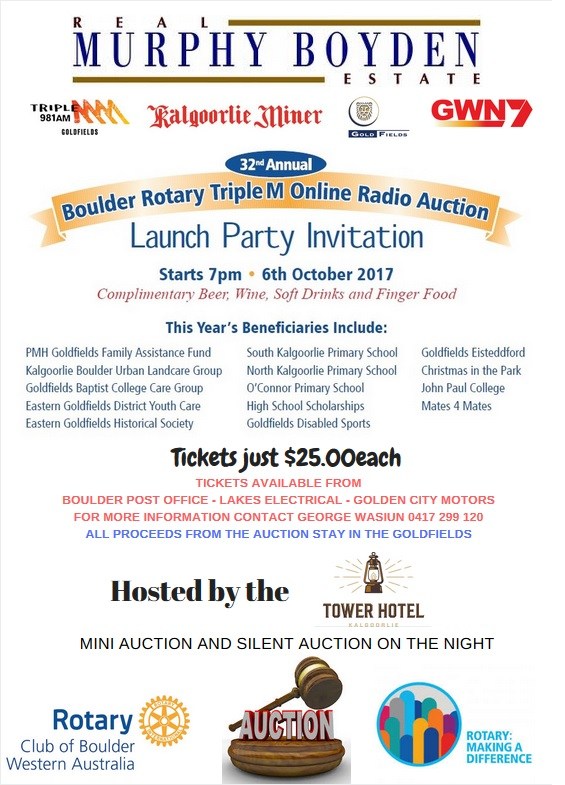 The annual and highly anticipated Boulder Rotary Club Radio Auction  Kicked off on Friday October 6th in the Tower Hotel Kalgoorlie. This year marks its 32nd year in action! The Auction commenced online after an official count down at the launch and the public are able to bid for items where all monies raised goes to some fantastic and deserving local groups in the Goldfields.
Check out he Auction site at this link Radio Auction 2017, there are some great items up for grabs, defiantly worth checking out!
This Year's Beneficiaries include:
Princess Margaret Goldfields Family Assistance Fund
Kalgoorlie Baptist College Scholarship
Kalgoorlie Boulder High School Scholarship
John Paul College Scholarship
Kalgoorlie Boulder Urban Landcare Group
John Paul College
O'Connor Primary School
North Kalgoorlie Primary School
Christmas in the Park
Eastern Goldfields District Youth Care
Goldfields Baptist College Care Group
Eastern Goldfields Historical Society
Goldfields Eisteddfod
South Kalgoorlie Primary School
Mates 4 Mates
Goldfields District Disabled Sports Association
Since its debut in 1986 the Boulder Rotary Club Auction has raised almost 2 million dollars!! The Club's aim for the 2017 auction is to hit that 2 million dollar mile stone but it can't be done without your support. You can check out the items online now, there are some great vouchers from local businesses, sport memorabilia, fine dining packages, tools and much much more!
Worthy Parts are delighted to come on board this year as a Nickel sponsor, check out the auction website here to check out what's on offer. Bidding ends this Saturday. Contact the club on their Facebook page Rotary Club of Boulder tif you have any questions!