Starting the year to the news that WA was fast becoming the Lithium Mining capital of the world, Worthy Parts were excited to see potential growth in the local mining market! Now we're closing off on 2017 we are looking back and grateful for a very positive year for Worthy Parts…
PROFESSIONAL GROWTH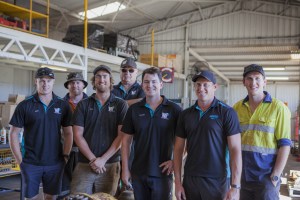 As the mining industry grew throughout the year, the Worthy Parts the team expanded to meet demand! With the addition of two more sales mangers on the team we were able to build on our existing relationships and create more international connections. Making trips to the USA, Canada, Belgium, the UK, Ireland and New Zealand we are better able to deliver results for  you through these connections!
Extending our advertising resources to promote your parts searches and selling has seen a steady growth in website traffic. WorthyParts.com had over half a million visitors in 2017, a growth of 40% since 2016. With a steady inventory of over 10,000 moving parts a month and No1 Google searching it's no wonder why! We've spent a lot of research and development throughout the year on designing a more amazing website which we look very much forward to introducing to you in 2018, so watch this space!
One of our key professional highlights in 2017 was becoming a Preferred IEDA Associate Member, an international regulatory body who promotes participation in professionalism and advancement in the independent distribution of heavy equipment.
COMMUNITY
Everyone in the Worthy Parts team are encouraged to participate in local community and if you know the guys and girls personally you'll know the extent of their massive contribution! The HQ is based in the regional mining town of Kalgoorlie in Western Australia, the isolation at best is one of the main driving factors behind our support to ensure local community has the adequate foundations for recreational activities that promote positive relationships and a quality of life in our community. The extent of our sponsorship has gone beyond the average contribution and on reflection Worthy Parts are extremely proud to have supported and committed to many local clubs and charities!
LOCAL CLUBS

The start of the year Worthy Parts sponsored Jerseys for Lake View Cricket Club and seen them win the A Grade Champion Grand Final. In MotoX we got behind the Stillman Family in Port Headland, Chris Hallet, Mitch Kerr and Jemma Merrylees who all took part in WA and some Interstate events! Stoked they all had great seasons, it was Merrylees who took the deserving accolade of Motorcycling Western Australia Women's Race Recognition Award equalling and surpassing her male counterparts in the sport! Then Rockdrill rocked around, Worthy Parts had to get behind this Iconic Goldfields Sport in helping them get their events together, a great spectacle you should experience! 2017 also seen the Ladies Olympians Basketball Team wear our logo proudly on their Jerseys and as Cricket Season commenced in November Worthy Parts became the Eastern Goldfields Cricket Association major sponsor for 2017/18!
FOOTBALL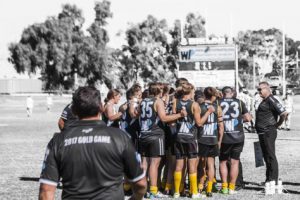 Worthy Parts took the opportunity to become a major GFL sponsor for 2017. Knowing the positive contribution made to local community and being close to the heart of the Worthy Parts team it was great to see the brand up on the score board at Sir Richard Moore Oval all year. As winter rolled in and footy season got under way, the Annual Gold Game between Kalgoorlie City Football Club and Mines Rovers Football Club took place. Worthy Parts were proud to sponsor the Colts Team jumper for this fundraising game which raised over $20,000 for the deserving Goldfields Children's Charity.
CELEBRATION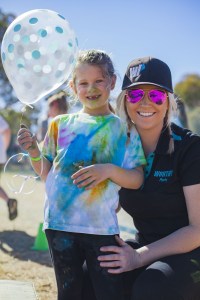 One of the most memorable group actives Worthy Parts took part in was the Community Colour Run, raising money for local Primary School North Kalgoorlie. We were delighted to be able to colour the community in Worthy Parts Blue for a morning of fun with local families! And if you didn't think that was enough for 2017 we had to get behind the MAMILS in September who cycled 800kms to cure cancer (you need to check out that link and see their epic journey)!! Our last event for 2017 was participating in the Saint Barbara's Festival Parade, an annual Goldfields celebration and appreciation for all that mining give us. It's an opportunity to showcase mining to our wider community and give the whole family a chance to experience our main industry . A really amazing year has passed by and we are very proud to have made our contribution towards building a better community.
LOOKING FORWARD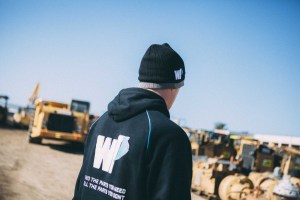 With news that there are currently over 1200 mining jobs looking to be filled in Western Australia we can now look forward to a progressive and positive start for 2018. It looks like we have weathered a slow few years of hard work and can move forward without the uncertainty of previous years. Worthy Parts look forward to rolling out our newly designed website! Making it even easier for you to find the parts you need and sell the parts you don't, our sales team will be working with you to make sure your 2018 is as good as ours!
All the best for 2018!
Claire, Marketing Manager & Worthy Parts team.